We have years of experience caring for families, from all walks of life. Each family comes to us because they know we are leaders in our profession, dedicated to excellence in service, and have the highest integrity.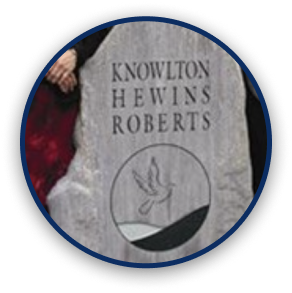 ---
The Roberts Family History
Our heritage dates back to the mid-1800's when William Harrison Roberts was a cabinet maker and undertaker in Wayne in 1840, he probably could not have believed that his great-great-great-grandchildren would carry on the family name and tradition right into the 21st century.
William H. Roberts had four sons; Frank, Will, Wendall, and Nathan. All were cabinet makers and undertakers, as it was the cabinet makers who made the caskets and did undertaking in those days. Frank later moved to Vienna, Maine and then to Georgetown, Mass., where to this day the Roberts family continues the funeral business. Will, Wendall, and Nathan went to Readfield where Nathan's son, Leon Roberts', elected to carry on the business after his father died. After a devastating fire in Readfield Village, Leon lost everything. Known for his determination, Leon purchased the Bowdoin Street house in 1923 and renovated it into the first funeral parlor in the area. Leon Roberts played an instrumental role in requiring licensing for morticians in the 1920's. By the time his two sons, Carleton and Douglass, were of age to take over the business, six months of schooling and licensing were required.
---
Continuing with tradition...
Terry Roberts, son of Carleton and Lucille Roberts, attended mortuary school in Boston where he met his wife, Janice, whom he married in 1960. Terry and Janice had three children; Lynn, Leon, and Valerie. Lynn Roberts Reed and Leon Roberts are currently carrying out the family tradition. Lynn is President of Knowlton & Hewins and Roberts Funeral Homes and a Bereavement Facilitator, and Leon is Vice-President and a Licensed Funeral Service Practitioner. Their father, Terry, was a Licensed Funeral Service Practitioner. Their mother, Janice, was a National Certified Bereavement Facilitator. Both Terry and Janice retired in December of 2003. In 1994 Janice co-authored with Joy Johnson "Thank You For Coming To Say Good-bye", a book written for families, funeral directors, and other care-giving professionals, and dedicated to children of all ages who need to understand what has happened, to be allowed to grieve, and to pay tribute to the person who no longer lives.
---
The Hewins Family History
Knowlton & Hewins is one of the oldest businesses in Augusta, tracing its beginnings back to 1822 when David Knowlton started in business as a manufacturer of furniture, coffins, and caskets at the "Old Stand", on the corner of Oak and Flagg streets. His son, Charles, entered into business with him and subsequently succeeded him. Charles also did "Embalming of the bodies of deceased persons, when desired." Charles' daughter, Alice, married Frank Hewins in 1900 and joined the two families. Frank became a member of the firm and the name was changed to Knowlton & Hewins.
Frank and Alice Hewins had three children, Charles Knowlton Hewins, Frank Hewins, Jr. (Binks), and Beverly Hewins. All three children were active in the business until their deaths.
Charles Knowlton Hewins married Margaret Powel and they had two children, Charles Knowlton Hewins, Jr. and Gail Hewins. Charles, Jr. entered into the business in 1959 and was active in the business along with his wife, Alice, until her death in 1985 and his retirement in 1987.
Charles Knowlton and Frank Hewins, Sr. were instrumental in founding the Maine Funeral Directors Association in the early 1920's.
Back in 1920, Frank Hewins, Sr. bought the property in Augusta where the present funeral home is located. Over the next two years he built the present building. It became the first building in the state built for the specific purpose of serving as a funeral home. Previously it had been the custom of families to keep the bodies of the deceased in their home.
The building has been added to and rebuilt several times. In 1966, there was a major expansion and redecoration of the interior. In 1975, a 22' x 50' extension of the building was added, along with soundproof partitions and central air conditioning.
In 1938, the firm opened the Hallowell funeral home and "Binks" Hewins managed this location until shortly before his death in 1955.
In 2004, the Hallowell Funeral Home, located only two miles from the Augusta funeral home, was closed and sold to a local Hallowell couple, who plan to renovate it into a bed & breakfast.
In late 2004 and early 2005, the Augusta and Winthrop locations have undergone renovations. The style of the "home" is Craftsman, built in the late 20's. In the recent renovations we used colors that reflected the light at the end of the day, "A golden afternoon". With new furnishings, carpets, and lighting it is a delightful, yet quiet and meditative space. We have also installed Craftsman Style Gardens, with flowers and evergreens of a bygone era. The new parking lot completes the look. Knowlton Hewins Roberts Funeral Homes and Cremation Service has updated, by going back into the history of the home and creating a quiet and beautiful place to celebrate a life.
---
The Joining Together of Two Families
By the 1980's, Terry Roberts knew that changes had to be made in the business. His father, Carleton Roberts, and uncle, Douglass Roberts, had retired, leaving him to run the business alone. Charles Hewins, Jr., owner of Knowlton & Hewins Funeral Homes, had no children to carry on the family tradition. The Roberts family of Winthrop and the Hewins family of Augusta had been friends and associates for many years. The two decided to merge in 1984. This merger incorporated the fifth generation of the Hewins family and the sixth generation of the Roberts family, together serving approximately 260 families a year in the Augusta, Hallowell, and Winthrop, Maine and the surrounding communities.
On December 31, 2003, both Terry and Janice retired, passing the family business on to their daughter and son, Lynn and Leon.
Jeffrey A. Forsythe purchased the funeral homes in July 2018.